Jerry Barca | Aug. 23, 2013 | ESPN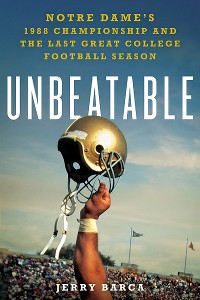 Author Jerry Barca looks back at the 1988 Notre Dame team, an unlikely bunch that had a wild ride to the Fiesta Bowl that led to the title. 
Before the team left campus for a few days of Christmas break, Notre Dame coach Lou Holtz put them through a rigorous string of practices to prepare for the Fiesta Bowl matchup with West Virginia.
"All the little things that you're taught to do in spring practice and training camp, we went right back to them. We had some very intense practices," said linebacker and captain Ned Bolcar.
Holtz pumped the West Virginia fight song into the Loftus Center, playing it over and over and over again.